Reading at Westminster
At Westminster CE Primary School, we are committed to ensuring that our learners become skilled and confident readers who know and use a range of effective reading skills, which allow them to tackle challenging texts whilst ensuring that they gain a good understanding of what has been read.
Westminster has a clear long-term plan for English. The reading section is underpinned by progression in reading documents and the National Curriculum. Teachers use this document to plan units for English which include a reading phase. This is also used to plan for whole class reading lessons.
EYFS have daily reading sessions where the teacher reads a book to the pupils and it is discussed altogether. Children in Year 2 and children in KS2 who have passed the Y1 phonics screening check have daily 30 minute lessons. During these sessions, children learn specific reading comprehension strategies (prediction, questioning, clarifying, inferring, summarising and activating prior knowledge). Quality age-appropriate texts have been selected as a basis for the reading lessons - these can be full texts or extracts. Modelling of skills, the pre-teaching or post-teaching (key stage dependent) of vocabulary and high-quality questioning are all non-negotiables for reading lessons. All children will be listened to reading regularly as part of or alongside these reading lessons. During reading lessons, teachers will plan to cover all requirements of the National Curriculum. Part of this, but not exclusively, is the teaching of VIPERS (Vocabulary, Inference, Prediction, Explanation, Retrieval and Sequencing/Summarising). These are six key reading skills that will be modeled, recapped and discussed during every text that is read. Pupils are able to articulate what these skills are and what skills they need to use to answer specific VIPERS to ensure a consistent approach with questioning and vocabulary used in reading sessions, whether that is a whole class or 1:1.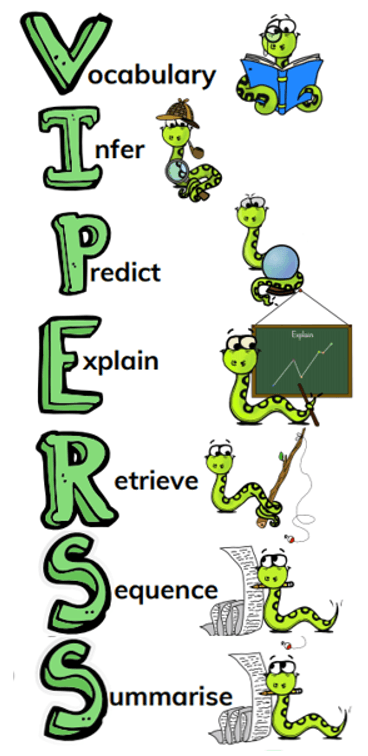 Learning to love reading and being able to read to a high standard are key priorities at Westminster and the process starts with our youngest learners and continues throughout their time here. Sharing the magic of books and stories happens throughout school and opportunities to read across our curriculum are frequent..
Useful websites to support reading:
Book Trust https://www.booktrust.org.uk/books-and-reading/
Suggested books for children, advice on how to read with your child, book lists, fun games, competitions to win free books, children's book club etc.
Oxford Owl https://home.oxfordowl.co.uk/
Phonics advice and access to free E-Books. Free to register